Jacksim®
A wave-frequency floating/transitioning jack-up motion model.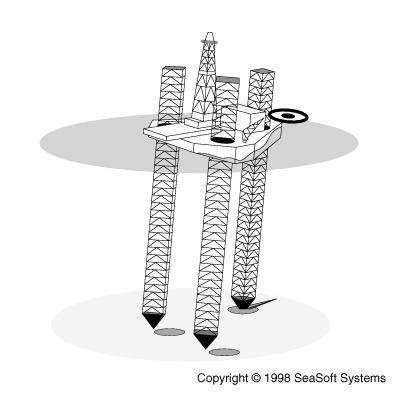 Executive Summary
Jacksim is a powerful software tool for analysis of wave-frequency motions of jack-up drilling vessels in the floating mode. In addition to the six degree-of-freedom afloat motions capabilities common to all SeaSoft motion offerings, this package includes:
A sophisticated analysis of the dynamic leg loads associated with going on location in the presence of waves. This feature includes specification of ocean bottom soil conditions. The leg-load estimation capability provides an important new tool for the operational engineer or marine surveyor. This capability aids in the quantification of the difficult and highly subjective process of evaluating structural risks associated with going on location in marginal sea conditions. The ease of use and microcomputer execution capability of this program mean that the program load estimates can be obtained in real time, on location, by the engineer or surveyor in charge.
A novel calculation of leg bending loads incurred going off location in the presence of waves when one or more legs are trapped or otherwise restrained by entrapment in soft bottom materials.
A nonlinear hull and leg damping algorithm which leads to realistic nonlinear response functions.
Evaluation of vessel motion characteristics for any position of the legs, from fully raised to fully lowered, and specification of the degree of leg-well blockage by spud can insertion during tow or other legs-elevated operations.
(Under Development)
SeaSoft Home